Small, premium hatchbacks are extremely popular in Europe. In the 'States, they're about as desirable as the measles, because us 'Mericans are all about size (maybe, we're compensating for something). But east of the Atlantic, small hatchbacks with premium cabins and good looks are very popular. That's because many of Europe's most famous cities have rather cramped, tight roads with dense traffic. So having a small car to fit through traffic gaps and park in tight spaces is a luxury in itself. But you don't want a tiny car with a crap interior, right? That's where these two cars; the Audi A1 and MINI Cooper; come in. So which is best?
In this new comparison test from Top Gear, we take a look at what is possibly the oldest premium hatch (MINI Cooper) and the newest (Audi A1).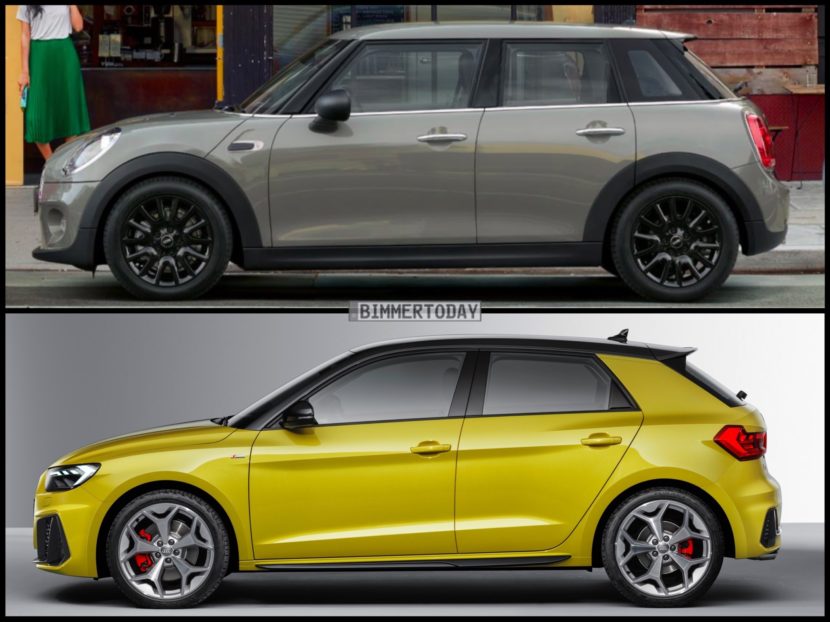 On paper, the two tested cars are very similar. Both use very small, three-cylinder, turbocharged engines. The Audi A1 gets a 1.0 liter turbo-triple, while the MINI Cooper gets 1.5 liters of three-cylinder fun. The Audi A1 has 113 bhp and the MINI Cooper has 126 bhp. Both get seven-speed dual-clutch gearboxes and front-wheel drive. Both also have five doors, leather seats and fancy infotainment systems. So they're both very similarly equipped, making it a fair fight.
From the outside, the A1 looks far more modern. Its slick, sharp lines and aggressive front fascia (replete with fake air intakes) make it the more stylish car. The MINI Cooper still looks like a MINI Cooper, with its bulldog stance and cutesy face but it looks a bit bulbous in five-door trim. On the inside, things are largely the same. The Audi A1 is very slick inside, with a completely digital instrument panel and a very high-def touchscreen infotainment system. The MINI Cooper gets its traditional, albeit dated, styling and old-school gauges. It must be said, though, that the interior quality of the MINI is superior than the Audi's and its BMW-sourced infotainment system is easier to use, even if it's not as slick to look at.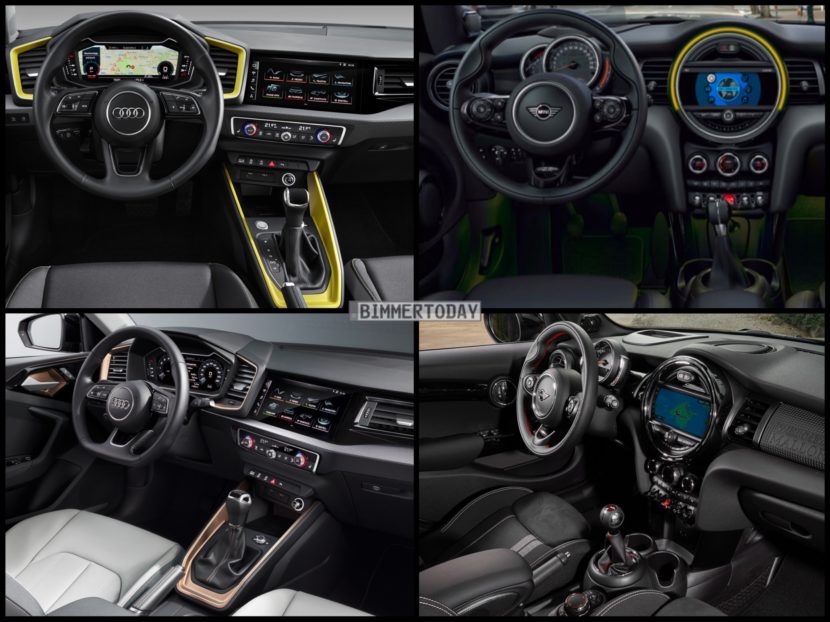 But how to they drive and what are they like on the road? According to TG, the MINI is the sports car of the two. Its steering is better, its handling is more fun and its chassis is more playful. It's the driver's car of the two. Though, the Audi A1 is much more comfortable, far quieter and more composed over broken pavement. It's also more practical and more spacious. So the MINI is the car you buy if you value fun over all else and the Audi is the one you buy if you don't.

Overall, though, Top Gear gives the win to the Audi A1. While the MINI Cooper is very focused in nature, being a fun little sports hatch, the Audi A1 is the more well-rounded car, being better to drive more of the time.

[Source: Top Gear]
---
---
---