Despite what many Audi fans might say, the BMW 5 Series has always been the most important car in the segment. In fact, it's the car that invented the segment. So whenever it comes time for BMW to develop a new 5 Series, the pressure is on for the Bavarian brand to deliver a great car. What BMW came up with was this — the new G30-generation 5 Series and it's a car that Audi should be very nervous about when developing the new Audi A6.
The new G30-gen 5 Series is based on BMW's new scalable architecture that first underpinned the G11-generation BMW 7 Series. The new 5 Series chassis is made with extensive uses of lightweight materials, such as aluminum and magnesium, making it significantly lighter than the car it replaces. However, it does lack the "Carbon Core" technology of the 7 Series, due to cost purposes. Despite that, it's still light and incredibly stiff, making it both ride and handle better. But most customers don't care much about the sort of chassis materials used in their new car. They care mostly about design. And the new 5 Series' design isn't exactly without controversy.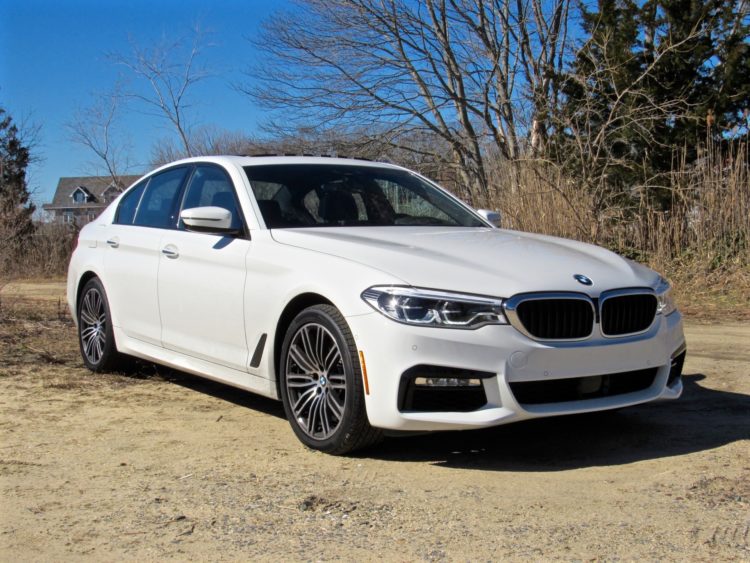 At first glance, it may look like BMW phoned this one in, in terms of design. Without taking a good look, it doesn't look that much different from the car it replaces. However, look closer and you'll notice that this car is far more muscular than the outgoing one. Its wheel arches are more aggressive, giving it a wider looking stance and, when combined with the more pronounced shoulder line, give the new 5 Series a chiseled look. Not only is it more muscular, aggressive and athletic looking but it's also more elegant and much prettier than before.
The headlights mesh with the signature Kidney Grilles, like on all new BMWs, and the Air Breather looks better than on any other Bimmer. Also gone is the obnoxious "hockey stick" trim from the 7 Series, thankfully. The taillights are also far prettier than the previous F10-generation. It's just a smoother looking car and it is ultimately better looking than its predecessor, if not drastically different. It's just different enough. We also recommend the M Sport package, as it really complements the car's more aggressive look.
The interior design is also best-in-class, with a design that's more functional than that of the Mercedes-Benz E-Class, with better build quality as well.
Inside, though, the two cars are night and day. The interior of the new G30 5 Series looks and feels best-in-class. Especially with the Mocha Brown Multi-Contour Nappa Leather seats equipped on our test car. The seats are nothing short of fabulous, with the perfect balance of comfort and stability. The side bolsters are adjustable and are excellent at holding you in. The seat cushions are supple and supportive, allowing long trips without any fatigue or discomfort, while also holding you in during spirited driving. This level of quality is mirrored throughout the cabin, where every material you can touch, and even those out of reach, feel of extremely high quality. This feels like a much more expensive interior that the 5 Series' price would suggest.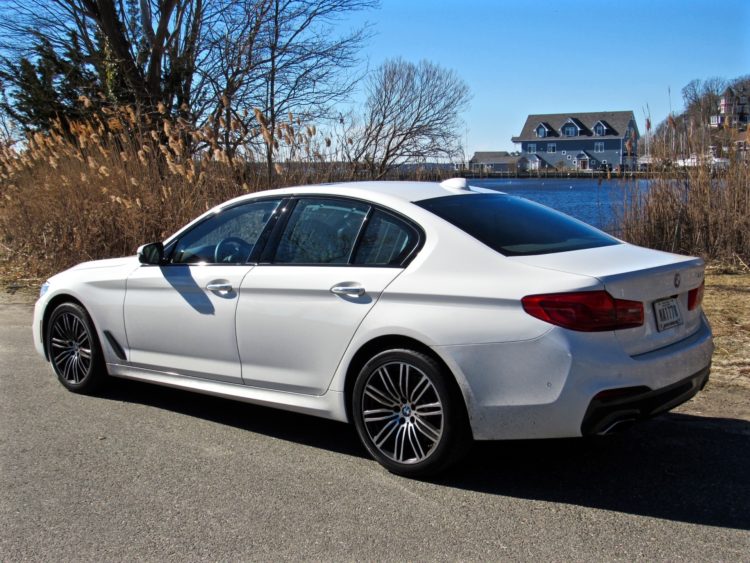 It's also great to look at, with a sharp design and modern technology. BMW's latest iDrive is brilliant, with a massive high-definition screen that has superb graphics and impeccable clarity. It also has touchscreen capability, to go along with the typical iDrive rotary controller, giving passengers more than one way to interact with it. Added to that list of input controls is Gesture Control, which allows passengers to control the screen with hand gestures, such as making clockwise or counter-clockwise swirls to raise or lower the volume. You might think that having so many ways to interact with the screen might get confusing or overwhelming but I actually found that I started using different means of interaction for different things without even thinking about it. For instance, I'd actually use Gesture Control for volume, the touchscreen for controlling navigation and Apple CarPlay (which works wirelessly) and the rotary iDrive controller for basically everything else.
While its steering feel isn't E39-level, it's far better than the F10-gen and better than most cars in the class. It's also fantastically accurate, as the front-end bites hard and turns in with great precision.
During our week with the car, everyone who stepped inside raved about the interior, with most claiming it to be the nicest interior they'd ever seen. It's a really gorgeous cabin and we think it's better even than the 7 Series upon which its design is based. It's also best-in-class, with a design that's more functional than that of the Mercedes-Benz E-Class and fresher looking than the Audi A6, with better build quality than both. It may not be as flashy as the Benz, but it packs more substance. And it's just better than the aging Audi A6's cabin in basically every way. The A6 has a really nice cabin but it's just too old in this segment.
But cabin tech isn't the only technology BMW packed into the 5 Series. Along with the Bavarian brand's usual suite of safety tech, such as blind-spot monitoring, autonomous emergency braking and lane-keep assist, BMW has give the new 5 Series an upgraded version of the semi-autonomous steering assist in the new 7 Series. At highway speed, the 5 Series is capable of steering itself through clearly marked road lines for up to 50 seconds at a time. Though, it does require the driver to touch the steering wheel periodically to insure there's no funny business going on. It works surprisingly well and much better than in the 7 Series.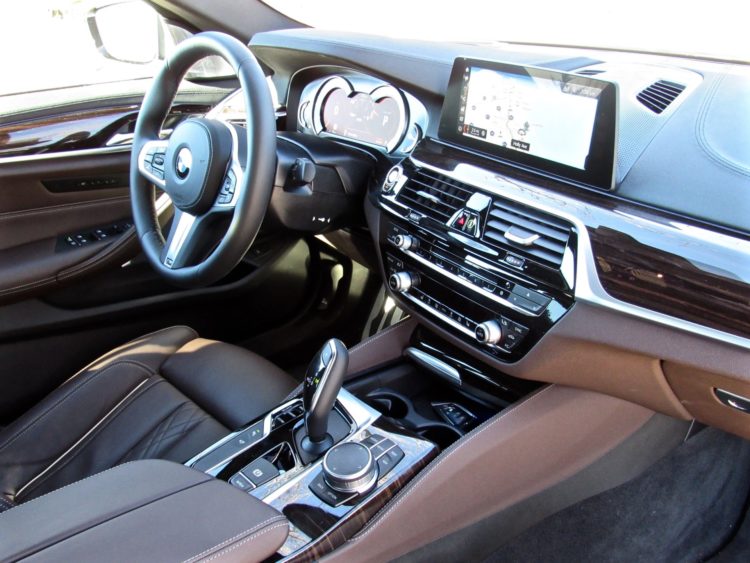 Despite the 5 Series' capability to drive itself, the most important aspect of it is how it drives when there are human hands on the wheel. BMW developed the 5 Series to be the Ultimate Driving Machine as well as a great luxury car. And this was really where the new 5 Series needed to improve the most, as the previous generation car's biggest complaint is that it lacked the sort of driving dynamics typically associated with the Bavarian brand. While comfortable, smooth and luxurious and customers loved it, enthusiasts were less than excited about the way the previous F10-generation 5er drove. So this new G30-generation needed to be a big upgrade.
On our M Sport equipped car, with optional adaptive dampers and a lower ride height, the 5 Series still rode superbly
Thankfully, BMW delivered, as this is the best driving 5 Series since the E39-generation. That may sound a bit like hyperbole but it isn't. Not since the E39 has the 5er been so nice to drive. The steering is light, admittedly, but not overly so and it weights up nicely as you turn the wheel. There's also surprisingly good feel and feedback through the steering wheel. While its steering feel isn't E39-level, it's far better than the F10-gen and better than most cars in the class. It's also fantastically accurate, as the front-end bites hard and turns in with great precision.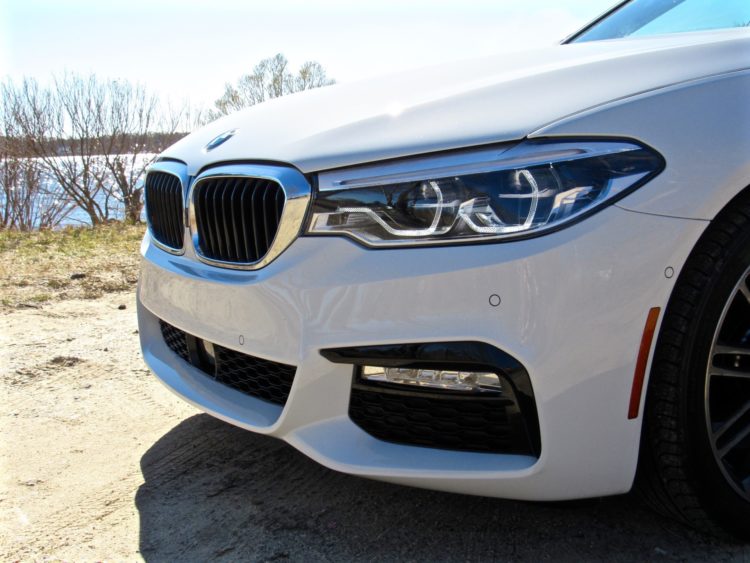 That new lightweight chassis also pays dividends when the roads get twisty. Not only is the steering sharp but the chassis responds in kind. Chuck the car into a corner and the chassis responds with agile moves and controlled body motions. Our car was an sDrive, rear-wheel drive model with BMW's Integral Active Steering (rear-wheel steer), which is the most agile variant of the new 5 Series. With rear-wheel drive dynamics, it just feels neutral and natural through corners and is genuinely fun to string a series of turns together in. While the previous-gen 5 Series was just okay to drive, this new car is downright fun. The rear-wheel steering is also worth the money, as it effectively "shortens" the wheelbase, giving it a tighter turning circle and greater low-speed agility, combined with better high-speed stability.
Don't think that its added agility over the previous car diminishes its ride quality. On our M Sport equipped car, with optional adaptive dampers and a lower ride height, the 5 Series still rode superbly. Body control was kept at a minimum, even in Comfort mode, and the ride was smooth and supple, ironing out bumps, even in Sport mode. It' a fantastic blend of luxury and sportiness, though some customers may want a softer ride. For those buyers, the M Sport suspension is probably not the best choice.
Our test car was a BMW 530i, so it came with the brand's new B48 2.0 liter TwinPower engine. That little turbo-four makes 248 hp and 258 lb-ft of torque. While that may not seem like a lot, it's more than enough for the majority of 5 Series buyers. BMW claims a 0-60 mph time of 6.0 seconds, but we expect it to be a touch quicker than that. It's also silky smooth, with a flat torque-curve all the way through. Peak torque comes in early and doesn't drop off until peak horsepower kicks in, making the 530i easy to hustle. We also averaged just under 25 mpg with very hard driving throughout, so it's economical as well.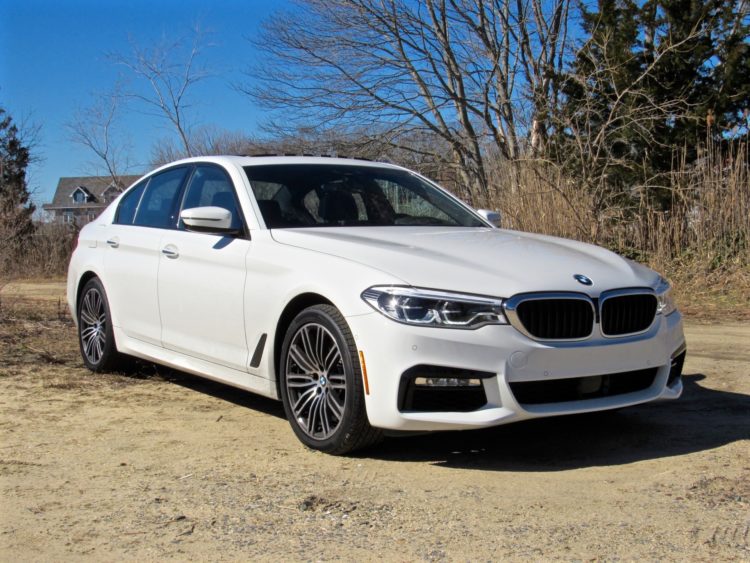 As for the eight-speed ZF-sourced automatic, what can we say about it that we haven't already said before? It's brilliant, as always, with smooth quick shifts that are as immediate as they are timely. The gearbox is so smart, always keeping you in the right gear when left to its own devices and provides instantaneous manual shifts with the paddles. It's perfectly paired to the engine. I also really love the paddles themselves, which look great and have a lovely texture to the back of them.
Are there complaints? A few niggles. That 2.0 liter engine doesn't sound very good. At idle, it sounds a bit like a diesel, rattling away more coarsely than you'd expect from a 5 Series. When it's revved up, it makes a decent growl but it's mostly just noise and doesn't actually sound great. While the cabin is wonderfully quiet on the highway, it also blocks out engine noise completely, which makes fun driving less exciting. That's actually not such a bad thing in the 530i, as its engine doesn't sound great anyway, but is a real shame on the 540i, which has a brilliant-sounding I6. It can also get pricey with options, as our test car was a whopping $75,000. Though, if you can manage some restraint with the options list, it's actually a very affordable car and offers a lot for the money.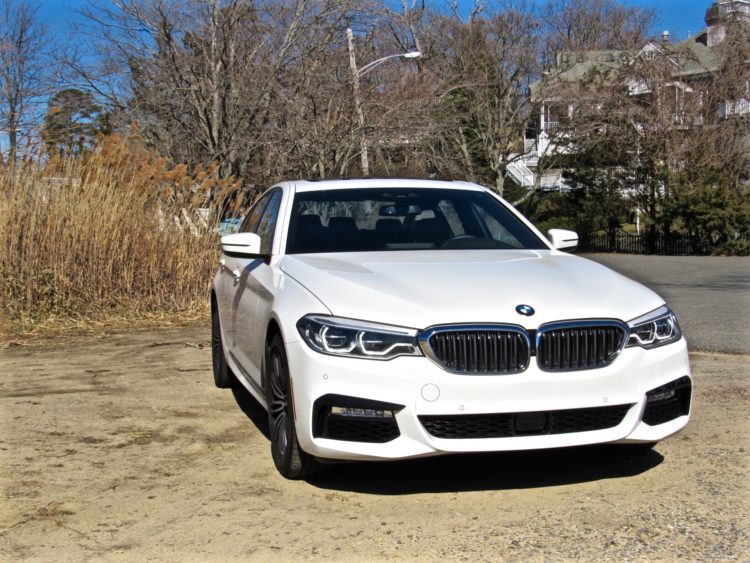 However, when it came time to give the 530i back to BMW, I must admit there was quite a bit of sadness. It's a great car that'd I'd buy myself and one I miss now that it's gone. It was a great companion during any style of driving, whether it be long highway cruises or blasts on twisty roads. There wasn't anything we could throw at the BMW 530i that it couldn't handle with aplomb. If it were my money, I'd ditch some options to get the BMW 540i, with its sensational B58 3.0 liter I6 engine. But, most customers would be more than happy with the 530i and it offers a great blend of performance and economy. We averaged just under 25 mpg with very hard driving throughout.
This new G30-generation is the best 5er since the E39-generation, without a doubt. For anyone who's concerned with what BMW has been doing lately, complaining about the brand's seeming departure from its roots, rest assured that this new 5 Series proves BMW still knows what it's doing. The BMW 5 Series is back and it's the best car in its class.